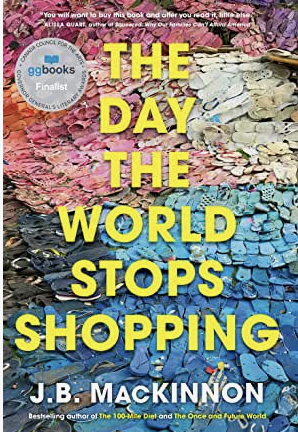 What I'm reading this month
A detailed, eyes-wide-open on how we as a society are consistently participating in "utterly meaningless consumption" that is exhausting our environment, our lives, our earth.
A couple tips for me:
-we MUST buy less versus "buy thoughtfully"
-we MUST promote companies to make quality, longevity built products and hold them to standards differently specific to life cycle of product, how users can have items fixed/mended and the organization win for being "that company" versus profit run, quick-hit products.
-Currently society is generally focused on extrinsic values versus intrinsic. If shopping was done less (i.e. beginning of covid, millions closed from retail therapy and we saw huge, positive impact) we can make a severe, positive impact on our earth. During the first 6 months of COVID we also saw an "epidemic of kindness" (the reaching out to others), more gardening, more physically activity, surge of social justice. IF we turn our back on consumerism and turn towards a life of simplicity (versus status and income) we can make this shift together, rather quickly.
-We need to rebuild our systems. We can create a new role in our community instead of consumerism. We instead can call is participatory culture which includes learning, giving, experiencing things and connecting.
-The World is consuming because it "doesn't know how to stop". Literally. And appear ok to kill our earth versus "buy less, buy better" model and give to ourselves from the inside out.